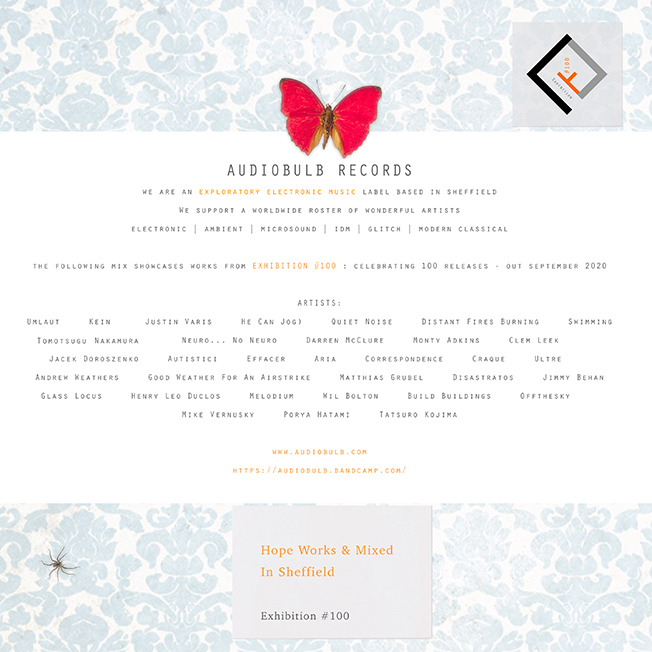 Exhibition #100 - Hope Works - Mixed In Sheffield
Audiobulb Records is an exploratory electronic music label proudly based in Sheffield/UK. We support a worldwide roster of wonderful artists whose work is often described as electronic, ambient, microsound, electro-acoustic, idm/glitch and modern classical. In September 2020 the exploratory music label Audiobulb Records reaches 100 releases. To celebrate we will be releasing one single per day for 35 days. Each single is a unique art piece from artists past and present as well as friends of the label. We consider it a great privilege to work with these artists. Creativity which comes forth in such subtle, beautiful and at times unsettling forms. As well as their music each artist chose an image to represent their track which is hung in a frame on the exhibition wall.
This is a single mix of most of the Exhibition #100 works - as first showcased at Hope Works - Mixed in Sheffield festival 2020.
These Walls Must Fall
All sales from this album will be donated to These Walls Must Fall

detention.org.uk/about/

These Walls Must Fall aims to put the voices and views of people directly affected by detention at the centre of campaigning. We support people who have been detained, or are at risk of detention, to speak out as experts rather than victims, and to lead the campaign.

We believe that people who are not at risk of detention need to stand alongside those directly affected to push for change. The campaign actively seeks to involve allies. Solidarity is about doing things with people, rather than for people. We encourage allies to act from a place of solidarity and justice, rather than pity or charity, and our campaigning seeks to galvanise outrage leading to change.

These Walls Must Fall focuses on campaigning, but whilst detention still exists we aim to support people at risk to understand the system, how to mitigate some of the damage, how to help themselves and others. Our training and skill-share workshops help people to prepare in case of detention, to take precautions to try and avoid it, to get support if it happens, and to get out as soon as possible. We are campaigning for an end to immigration detention for all, not just for particular groups. Detention is wrong, for anyone.

Anti-racism: Immigration detention, and the border enforcement regime, is a racist system. We are committed to the principles of anti-racism, and we see the campaign to end detention as part of the struggle against racism in our society. We are determined to make all efforts to challenge and eradicate racism that will exist within this campaign and that may arise in the future: internally or externally. We are opposed to racism, but recognise that to simply oppose it is not sufficient and a commitment to resisting it must be active and ongoing.

A people-powered network: These Walls Must Fall is a growing network of groups, organisations, communities, people. People from all sorts of backgrounds but with one thing in common: a determination to end the injustice of immigration detention.

People are pushing the campaign through their community groups, voluntary organisations, charities, trade unions, activist groups, faith communities, student societies, sports clubs… the list keeps growing! When you have these people, groups, organisations, communities, acting together, it all adds up to some serious people power. This is what it will take to convince the politicians that they must act to shut down the detention centres.
Cat: AB100-MIS
Release date: October 2020